We are approaching one year since life as we know if changed as a result of a microscopic virus that literally stopped the world in its tracks. These past twelve months have been tumultuous, to say the least. We have seen the impact of a worldwide pandemic, political unrest, and natural disasters. When these incidents happen, singularly or in tandem, you have two choices. One choice is to allow fear to take control and paralyze. The other is to embrace the uncertainty and find ways to be grateful for the opportunity to think about your business in a new way.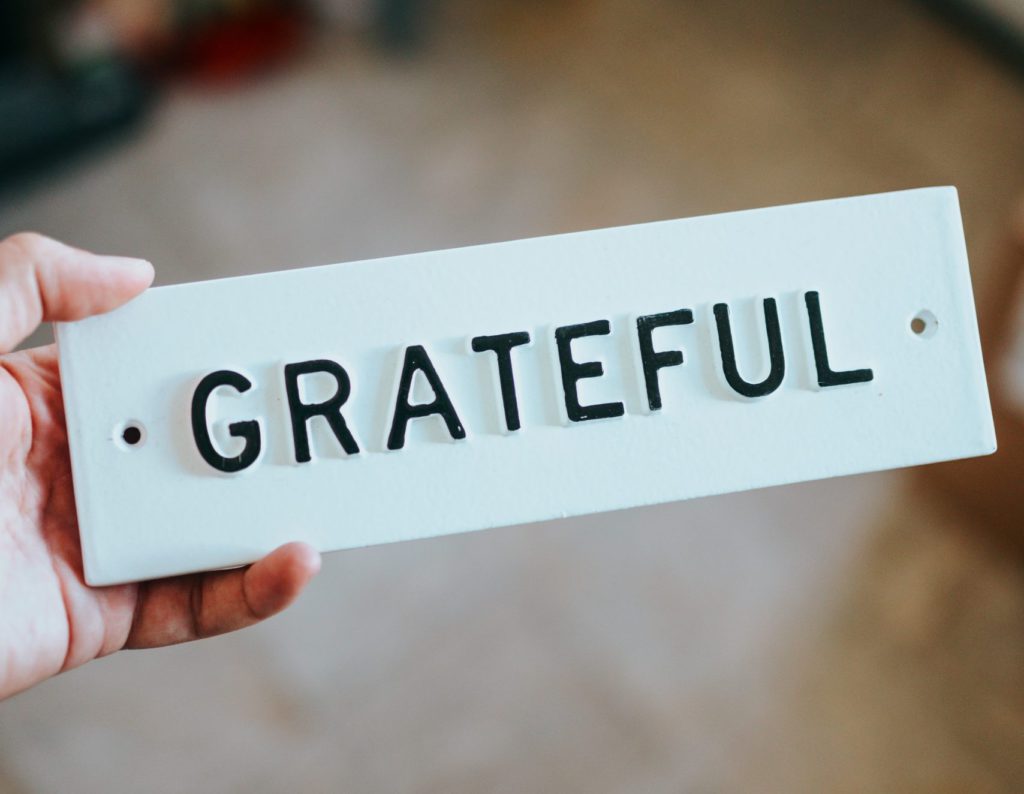 I think I talk about this every year. If I do not, I should, the concept of gratitude, especially in a year like the one we have had. The concept of gratitude is taught in every major religion and honestly, I have never totally grasped it.
I grew up Catholic and was taught to be grateful. It was always this outward thing, like appreciation for something else. The way at least I was taught, or the way I interpreted it, was something that was a have to, or a should. You should be grateful because you have that. Really, probably more so in studying performance and how one's mind works, in the concept of gratitude the number one beneficiary is the person demonstrating gratitude. I think if someone comes up and says thank you, or they were truly grateful for something you have done, a service you provided, something you have done as a friend, it is wonderful to feel that.
But what I learned, especially these past twelve months, and I will give you a specific example with COVID, is the one who benefits from gratitude selfishly is you. The reason is one cannot be grateful and spiteful at the same moment. One cannot be grateful and angry at the same moment. One cannot be grateful and jealous at the same moment. The brain cannot simultaneously hold both types of thoughts.
Every major world religion talks about gratitude. The Bible, the Quran, the Sutras, and other sacred texts are really designed to talk about how to lead a better life. I do not want to get too deep with you, but when I started consistently practicing gratitude, my perspectives on life both personally and professionally dramatically changed. When I wake up in the morning and I identify three things I am grateful for that day to get my day started. This simple technique from a guy named Shawn Achor, who wrote a phenomenal book titled, The Happiness Advantage. The practice is so important and powerful because it makes your brain scan the universe for good.
A lot of times your subconscious track is running at a level of, why is this so hard? Why will this person not get back to me? I have not made a placement in a while. Insert whatever negative or anxious thought tends to run through your head. They are not great questions, and the answers to all of those are not helpful. Bluntly, they are not helpful. When you wake up every day and you start practicing gratitude, you start looking for the good, and different sets of chemicals are released.
Going back to March of this year, when it was apparent we were going to go into lockdown, for a few moments, maybe a few hours, I got deeply disappointed. We were having a great year, as a lot of you were. January and February 2020 were fantastic in the search industry. I brought my entire team down to Florida and we had an amazing off-site business planning retreat. The execution from the time of the planning session through the beginning of March was fantastic. Then poor old me, COVID is going to help ruin my business or affect my business, not that it is not going to affect everyone's business. And it was at that moment, I caught myself.
Now whenever I find myself going into a distressed state of stress, anger, anxiety, jealously, or anything that does not feel good, I have learned that I can turn it around with gratitude. This is something that you can do too!
I entered into an internal dialogue with myself by asking, what is really true here? What is really true is we are probably going to enter some form of recession, and there is no way back mid-March anyone knew how deep, how long. So I then asked, what do our clients really need now? Instead of focusing on me, what do our clients need?
Having been through three recessions, what are our clients really going to need? Then the other thing I said, you know, I went through three recessions, and during each one of those times, I was not a happy camper, and bluntly, I whined through all three of them. However, I came out of each recession, 1991, 2001, and 2008, significantly stronger and better. But not for those recessions, I would not have had the next level of success, so they were phenomenal learning experiences. Instead of being resentful for the recession, I said, this is going to really make me stronger in ways I do not even know yet.
That is the key. You do not have to understand what the way is going to be – in ways I do not even know yet. Fast forward eight months, it is absolutely true.
When I really went outward, and we had to focus on our clients and the types of support our clients needed, we changed our complete support structure. People have credited us in emails and online with, if not saving their business, providing a bridge to what worked and to keeping them focused. We developed a whole new suite of techniques to find and attract clients. We developed a whole new suite of ways to add value to clients. But not for COVID, and I would not wish it on anybody, we would not be in the position we are to freaking crush it next year and for our clients to also crush it next year.
Instead of feeling upset or defeated that the amazing business plan me and my team devised and began executing was essentially null and void, we dealt with what the realities put forth in front of us. Instead of only looking inward and instead focus outwardly, we were given the opportunity to create an even better plan that not only served our clients at a very high level during some very dark times but also created new ways of service delivery moving forward.
So depending on where you are at in that mental spectrum of regret, remorse, anger, stress, I challenge you to identify and make this a daily exercise, three things that you are grateful for.
Three things I am grateful for today:
You, the person reading this post.
My clients, who allow me and my team to help them build and grow the businesses of their dreams.
The power of mindset and how it has kept me, my team, and our clients looking towards the future during this time of great uncertainty and change.
P.S. Whenever you're ready… here are 4 ways I can help you grow your recruitment business:
1. Grab a free copy of my Retainer Blueprint It's the exact, step-by-step process of getting clients to give you money upfront. https://get.therecruiteru.com/lm​​
2. Join the Recruiter Think Tank and connect with firm owners who are scaling too It's our Facebook community where smart recruiters learn to make more money and get more freedom. https://www.facebook.com/groups/there​​…
3. Join me at our next event 3x a year, I run a 3-day virtual intensive, sharing the 9 key areas that drive a 7-figure search firm. Click here to check out the dates of our upcoming event: https://get.therecruiteru.com/emerge​​
4. Work with me and my team privately And if you ever want to get some 1:1 help, we can jump on the phone for a quick call, and brainstorm how to get you more leads, more placements, and more time. https://get.therecruiteru.com/scale-now​​