I hear the same thing every year around this time. "Mike, it's the holidays, NO ONE is hiring/leaving/giving new job orders this time of year." 
HORSE HOCKEY!
Let me let you in on a little secret… It's not your client base that is slowing down; it is probably YOU and your recruiters that are slowing down! Don't let this fallacy spread around your office. You are only enabling your recruiters to accept much weaker performance than is necessary. Sure, some decision-making may be a bit interrupted, but people don't suspend their growth plans in December.
Need proof? I have tracked my key recruiting metrics for over 15 years. Our marketing presentation to job order ratio and recruit presentation to 1st-time interview ratio remained the same or even IMPROVED in December.
Let's look at some of the reasons why:
Many candidates who are due bonuses at year-end want to leave once they cash that check in December or January. The time to recruit them is NOW.

Especially this year, I am hearing of more companies with active plans for expansion next year. They are giving job orders now, or at the very least will tell you what they are looking for that is awaiting final approval for the new year.
Your competitors in the recruiting industry are hibernating Thanksgiving and New Year's because they are living the self-fulfilling prophecy that December is slow.
For most of us, business is up significantly, and we are well into the recovery.   If you are not, it's time to get aggressive.  The next few weeks can be phenomenal in building momentum into 2022!
Determine the exact weekly targets you and your team members need to hit to meet or exceed your revenue goals in 2022.  Click here to download The Recruiter GPS™ worksheet.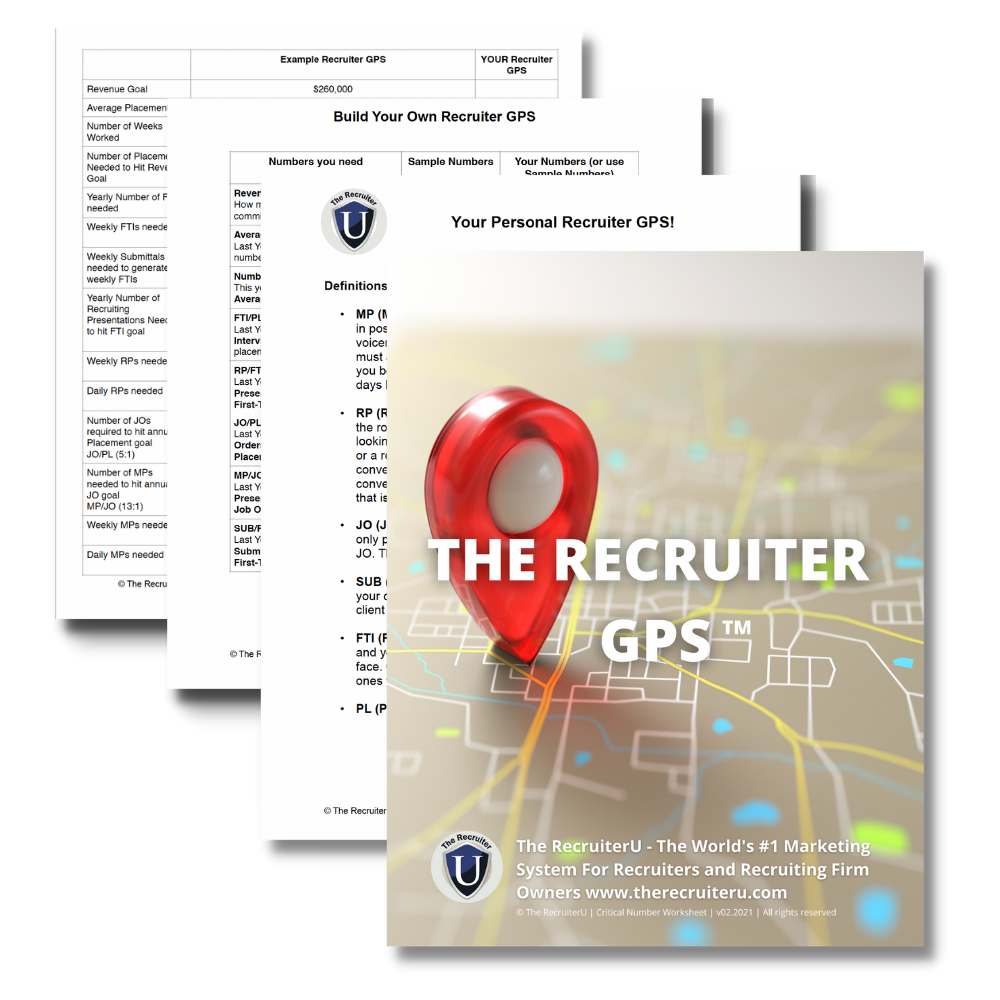 P.S. Whenever you're ready… here are 4 ways I can help you grow your recruitment business:
1. Grab a free copy of my Retainer Blueprint
It's the exact, step-by-step process of getting clients to give you money upfront. https://get.therecruiteru.com/lm​​
2. Join the Recruiter Think Tank and connect with firm owners who are scaling too It's our Facebook community where smart recruiters learn to make more money and get more freedom. https://www.facebook.com/groups/there​​…
3. Join me at our next event
3x a year, I run a 3-day virtual intensive, sharing the 9 key areas that drive a 7-figure search firm. Click here to check out the dates of our upcoming event: https://get.therecruiteru.com/emerge​​
4. Work with me and my team privately
And if you ever want to get some 1:1 help, we can jump on the phone for a quick call, and brainstorm how to get you more leads, more placements, and more time. https://get.therecruiteru.com/scale-now​