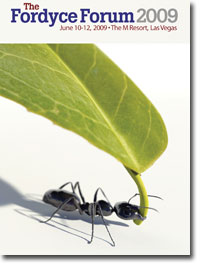 The people at ERE do such a great job putting on the Fordyce Forum each year.  Prior to coming I spoke with many recruiting firm owners who decided not to attend this conference, or any others this year for that matter because of the economy.  "It's too expensive."  or "I can't afford the time away from my desk!" were the laments I often heard.
Frankly, I believe this is shortsighted.  When it stops raining do you stop watering your plants?  Seriously, if you look at training, seminars, etc as a "cost" you must look at it as overhead.  When I attend a conference or invest… notice that word, INVEST in recruiter training, I expect a RETURN on that investment.  I always ask myself, "HOW do I get $20,000 to $50,000 back from attending this conference?"   and I usually do!  Not in 30 days, BUT within a few months!
Training has NEVER "cost" me anything.  As a matter of fact I got one killer idea from speaker (and client) Jordan Rayboy that will make me $50k, I am sure of it!  I am not sharing that one… I invested in that one.The conference this year is at the brand new M Resort in Las Vegas.  Phenomenal venue!  The people at ERE put together a great slate of recruiting trainers and speakers.  I was fortunate to speak to owners in a 3 hour "mini" workshop on my  6 Simple Steps to Hiring Great Recruiters.  New friend, Gerald Bullock flew in from Japan to hear it!  Follow me on Twitter for updates! (mikegionta)
In my next post I will be writing some of the quick takeaways and lessons I took from Barb Bruno, Jeff Kaye, Jeff Skretny, etc.  The good news is we all see business turning up and it started in April.  The consensus of most of the people here is that we reached a bottom in recruiting activity late winter and early spring.  While business isn't exploding, it is picking up for most.  The attendees of this conference will probably get a disproportionate share in their markets because they are all leaving with some new tools to "harvest" this crop.  They all came out for 3 days and watered their gardens.  How are you watering yours?