Hey Mike, how do you handle a client when you cannot fill a job, or it takes longer than expected to find anyone to interview?
That is an excellent question. You will be shocked by this answer – metrics. It is always usually the answer, or at least the origin. Likely, the issue is one of two things: either the salary is too low, or there is something wrong with the opportunity. Metrics will allow us to diagnose the issue.
If after 20-30 conversations with potential candidates you continue to hear misalignment between what they are looking for and what is available on the market, skillset, comp, whatever it is, a combination, I would call the hiring manager.
I would say, Hiring Manager, I want to review the search. So far, I have talked to 31 people. Now, if it were contingency, I would never tell them who I spoke with. If it were a retainer, I would.
I talked to 31 people, and with 11 of them, no matter what we had, Hiring Manager, they were not going anywhere, great year, great company, thrilled with their lives and their careers.
Of the remaining 20 people, I talked to 12 that did not have the qualifications you were looking for. Of those 12, six were close, but you said if they did not have _(blank)_, you did not want to talk to them. But they would be available at your comp level, and I could probably get one or two of them to talk to you.
And the remaining 8 have the exact experience you are looking for; some of them are relatively open to making a change, but you are $15,000 underwater even to consider them.
Or, I am not finding anyone with this Xdot37 technology that you are looking for. They all have the older version, the Xdot35, and they said it would not take long, but you said you needed . . . (I am making this up. There is no Xdot37 technology that I know of).
Whatever it is, you bring a numerical survey. I do not put it in an email. I do that with the hiring manager on the phone, and I get into a conversation.
Their initial response will be something along the lines of, keep talking to people.  And my response was always if I have talked to 31, the definition of insanity is doing the same thing over and over again, expecting a different result.  I may or may not find the person.  But you told me, here is why you wanted the position filled quickly. 
There were three people with the Xdot37, and they make $30,000 more than your range. My recommendation would be to interview some of these people. I think I can get two or three with the Xdot35, a lower qualification, to talk to you and listen to their argument of what they perceive as the gap and see if that makes sense.
If I am working with a really rigid employer and I do not have a retainer, then I can pull a parachute and go:
My advice would be to engage with another recruiter who can find this if you are unwilling to change some of these terms.  When I took the assignment, I told you I was tentative.  (This is why I would never wait until I've exhausted the search to have this conversation).
That is the best way.  I am just looking at your wording here.  It is taking longer than expected to find anyone to interview.  That means it is not a problem moving the process along.  It is the qualifications or the compensation of the candidate.  Data, data, data, data.  
Ensure you have the data on all your clients at a glance. Download Date or Ditch: The 10 Criteria to Determine Whether to DATE or DITCH Your Clients – And How to Use the JOB ORDER SCORECARD to Increase Revenue Today.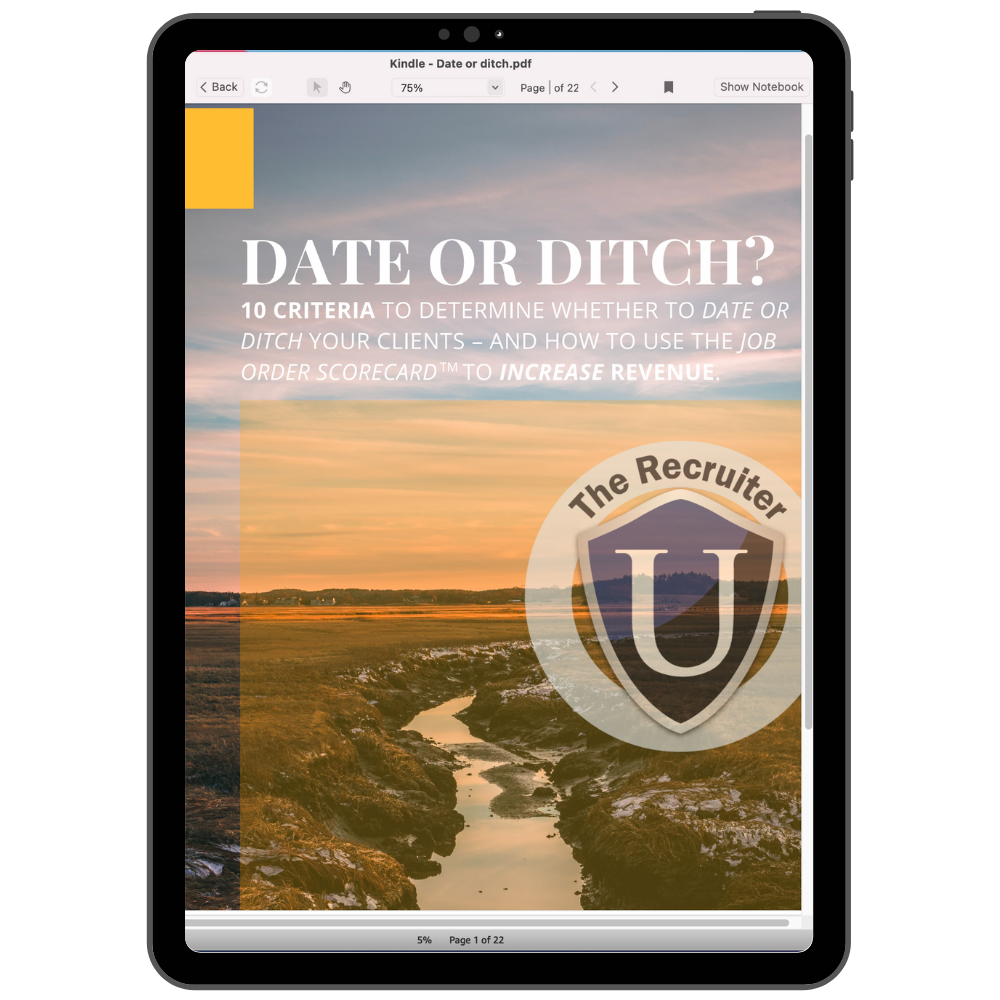 I learned this with one of my first good clients. I was a starving young recruiter, so I did not want to lose the job. He returned all my calls. He was a great guy. He was just unrealistic in a couple of areas. He found a guy who he loved but did not have all the technology qualifications he needed. He was close but not a fit. I thought he was going to make an offer to a candidate, and at the last minute, he goes, ugh, Mike, I cannot get past his lack of technology in this area. I still remember the guy's first and last name. His first name was Joe.
I just said, Joe, I am done. I was exasperated. I was so devastated he was not going to hire this person.
He goes, what do you mean?
I have talked to everybody that can do this job.
It was central northern New Jersey.
He goes, what about the guys at XYZ?
I go, there are two guys at XYZ. This guy and this guy. I actually gave him the names because I knew, liked, and trusted him. This guy is making – this was 1991 – $300,000 a year. He is not going anywhere. This guy just started. I cannot get him to talk to you. He has only been in the space for six months.
I went through the whole list. Joe would say, what about this company?
I would say, well, here. He goes, you did talk to everybody! Wow! You know what, if I am not going to hire this guy, then the guy I am going to hire will be even worse than this one.
I go, yep.
And he hired that guy. I did not do it strategically; it came from the point of exasperation. I am going to do that with everybody. I am going to collect data and share it with my clients. As the recruiter, it is a win/win, meaning you win if they increase comp or lower qualifications, and you win if you discover earlier on that the client is picky, and you pull a parachute and leave the search. You save a ton of time.
Thank you for that question, Jennifer.  
P.S. Whenever you're ready… here are 4 ways I can help you grow your recruitment business:
1. Grab a free copy of my Retainer Blueprint
It's the exact, step-by-step process of getting clients to give you money upfront. https://get.therecruiteru.com/lm​​
2. Join the Recruiter Think Tank and connect with firm owners who are scaling too It's our Facebook community where smart recruiters learn to make more money and get more freedom. https://www.facebook.com/groups/there​​…
3. Join me at our next event
3x a year, I run a 3-day virtual intensive, sharing the 9 key areas that drive a 7-figure search firm. Click here to check out the dates of our upcoming event: https://get.therecruiteru.com/emerge
4. Work with me and my team privately
And if you ever want to get some 1:1 help, we can jump on the phone for a quick call, and brainstorm how to get you more leads, more placements, and more time. https://get.therecruiteru.com/scale-now​
The Latest from TRU