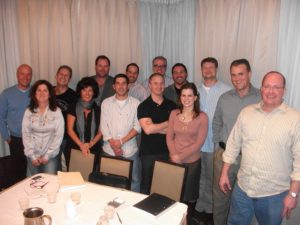 I would give you a "peak" behind the door of the meeting with my Platinum Coaching Members last week in Orlando, FL.
My clients came from as far as Johannesburg, South Africa and Tokyo, Japan to attend this powerful event.
There is no way a short article can convey the "power" of 14 owners helping each other strategize on how to grow their business, but I can share with you some quick "take-a way's" that you can use in your business NOW!
Here are some ideas my clients are already implementing in their business:
1) Realize the value of your time and delegate activities to free up time for revenue generation, hiring, training, and holding people accountable.  There was a general sense that we get caught in the weeds of our business and allow trivial items get in our way of growing our business.
Examples of items to delegate include:
 a)   Using outsourced research from firms all over the globe to build prospect and candidate lists.  This will significantly increase activity levels, thus placements.
b) Any administrative task other than signing checks can be delegated to a local admin, an intern or hiring a part-time person from a local high school, college, or someone later in their career who seeks part time hours.
These tasks can also be outsourced using services like O-Desk orElance.com where experts will bid to do your work.
2) Hiring using a different model.
Most agree that the old model of hiring a recruiter to work both sides of the desk is a 1970's way of doing business.  The high turnover and, more importantly, the drain on the owner/manager's time significantly slow the growth of an office.Create a career path and hire people to:
a)  Cold recruit and develop talent for the billing mgr or big billing recruiters.
b)   Cold call market and bring job order leads back to the owner/manager or big billing recruiter.
c)  Once they master these roles they can be promoted to work both sides of the desk.
3) Hold recuiters accountable.  We had a great discussion on setting and managing expectations.  Most agreed they set expectations, however, fell down when it came to HOLDING people to those expectations.  By using solid recruiting metrics you can quickly adjust direction on your recruiters performance.
By using bi-weekly coaching meetings with your team members and holding people to the commitments they made to themselves you will increase production.  Also, by holding people accountable using the RIGHT STRUCTURE you create value with your recruiters and increase retention. We all agreed that as much as people fight accountability structures, they need them, and in hindsight are grateful for them.
These are just 3 simple examples of ideas you can implement quickly into your recruiting business that require very low investments of both time and money!