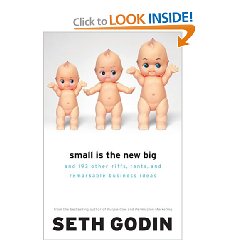 Seth Godin's book Small is the New Bigis a compilation of 183 Blog posts of his on out of the box thinking and marketing in the internet age.  OK, it's a couple of years old, but, that only makes it less expensive to invest in now! 🙂  I am now reading his newest book Tribes published recently, I'll report later.
This is great summer reading as it is NOT loaded in theory, but I found some of my current thinking challenged when I was sitting by the lake last week.
If there was ever a time to have your current recruiting world view challenged I think it could be now.  Many of our businesses have been stressed and shaken to their cores.  I am an eternal optimist.  Each of the past two downturns have made me change my approach to the recruiting industry. These changes brought new systems, metrics, and strategies that allowed for fantastic growth and profitability when we emerged from those downturns.
Here are a couple of easy to read tips from the book:
Making promises and keeping them is a great way to build a brand.
Low price is a great way to sell a commodity.  Is that what you want to be known as- a commodity?
People don't buy what they need, they buy what they WANT!
Choose your customers.  Fire the ones that hurt your ability to deliver the right story to the others.
Reminding the client of a story they know and trust is a powerful shortcut.
Are you using the same old recruiting training or are you adapting to the changing recruiting landscape?  (I inserted recruiting, that is not in his book)
And last but not least: All change isn't good.  Not at all.  But the irrational opposition to change is less good!
Again, I highly recommend this book and it is perfect for summer vacation reading.  You can get it on Amazon HERE.   What are you reading this summer?  Comment below… show us your alive! 🙂