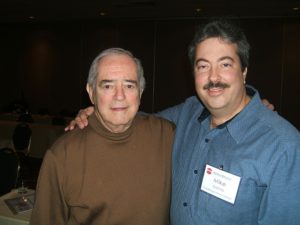 Alan Schonberg, founder of MRI and recruiting industry legend, was the opening speaker earlier this month at a training and awards conference ofWorldBridge Partners of which he is the Chairman.  Although I have heard Alan speak for 20 years he never ceases to inspire (or seem to age!).
Alan acknowledged the economic realities of recruiting in 2009 and while I thought that one of the most inspirational mentors I have had was going negative for the first time and maybe everything was REALLY bad out there, he turned on a dime.  Honestly, I thought, "I can't believe he thinks it is that bad out there!"  Instantly he cited studies and facts about one truism no one seems to be discussing: the changing demographics of our knowledge based workforce.
As many of you probably know, millions of baby boomers are entering retirement years or are craving only part-time work.  Their replacements, Gen X and Gen Y young adults represented some of the smallest growth rates in our population over the past 30 years.
Quoting US Department of Labor statistics he noted that while the unemployment rate had risen to over 7%, the unemployment rate for skilled, white collar workers was around 3%,  THREE PERCENT! Granted that number is up significantly from around 2%, but it is hardly catostrophic.
Alan continued to cite several industries that expected significant growth in hired professionals, like healthcare, technology, hospitality, and a bunch more (I should have been taking notes, but I was kinda taking it all in!).
No one is claiming it is easy out there, nor did Alan.  Alan survived and ultimately thrived as the CEO going through several recessions.  Recessions wash out the weak recruiters and the weak recruiting firms.  There was abundant harvest for those who were even mildly disciplined from 2003 through most of 2008.  You could even do "OK" in this business then with little discipline and focus.  Alan stood as a reminder to me that each recession I went through brought me out significantly richer in this business than when I had entered.
I didn't necessarily believe it the first recession I heard it in 1991, but I do more than ever now when Alan closed with"There has never been a better time nor a better place nor a better company than now an this one to be a recruiter!"
 Thank you Alan!