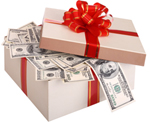 Instead of my normal written article this week I am moved to do something I don't normally do.
Last week I held a teleseminar to help Recruiting Firm Owners get ready for 2010.  I was so overwhelmed with notes on how much the call impacted those that attended and how the information made them look at their business in ways they never had before that I decided to make the replay available at no cost to all of my readers in the spirit of the season.  No Catch!
In the call are 4 key strategies recruiters and owners can use to develop a plan that  WORKS for them in 2010.
You do not need to register.  Simply go to this link to download the call in MP3 format or to listen to it on your PC (plan on 45 minutes) on your time:
www.attendthisevent.com/?eventid=10120035
Happy Holidays!