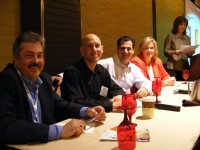 Last week I had the honor of speaking at the Fordyce Forum in Las Vegas for the third time in the past 4 years.  That's me on the far left on a management panel with Jordan Rayboy, Adam Dalva and Carolyn Thompson.  Watch my next post for more comments from this panel.
In this post I highlight some recruiting tips from Jeff Skrentny's key note speach:
When Jeff is sought out by a client he observes a few things in common that they are missing  that prevents them from building an excellent recruiting firm. (by the way, I have observed all of these too!  Hallelujah brother Jeff!)
Weak recruiting firms have NO written business plan with defined targets strategies or recruiting metrics. 
Weak recruiting firms have no sourcing or recruiting branding strategies to build upon their image.
Weak recruiting firms are terrible atsetting specific expectations with their employees, clients and candidates and are even worse at holding this same group accountable!Sidebar: If you have been reading this Ezine for any period of time you know I am passionate about these points.  Firms need to establish meaningful expectations that are a stretch to hit, but are achievable!Too many times I have seen owners/managers tell me they expect their new hire account executives to hit 3, 4 or 5 first time interviews per week inside their first month.  When I ask how many of their TENURED recruiters hit this number they say "none are now"!

How can you expect a new hire to exceed the performance of tenured hires when you have no real basis for this expectation?

Hiring, New Account Executive/Consultant Selection, Onboarding, and recruiter Training are inconsistent and not systematized.

Ever wonder why your turnover may be high?  Ever wonder why you get inconsistent results and activity from your new hires?  Maybe it's your hiring and onboarding process.

You need to document what works and what isn't.  There should be a standard event for your first interview, 2nd interview and peer interviews when attracting talent to your firm.  All your people need to be echoing the same message about your company.  An inconsistent message will create confusion and uncertainty in the mind of your prospective new hire.  On the other hand, a consistent message, repeated by your team, will attract the best talent!

Weak recruiting firms don't have a branded search process that distinguishes them from their competition.  EVERY recruiting firm sells "pitches candidates" to employers, but how many talk eloquently about EXACTLY what they will do to find and develop outstanding talent?

By being specific with your process, you create confidence with your prospects that you will FILL their open position.  This increases the likelihood of you getting a) a higher fee, b) a retainer and/or c) an exclusive on the search!

Next week I will share some tips from the recruiter management panel I participated on as well as some ideas from Bob Marshall's outstanding presentation on how to bill over one million $$ in a year!
Last year I introduced a very inexpensive way to get access to great minds in the recruiting industry AND access to me on a monthly question and answer call in my Inner Circle Coaching Club.  I invite you to try us out now.  I am giving away over $488 worth of my training as an "ethical bribe" to see for yourself that we will blow away the tiny $57 a month investment.  If we don't, email us and cancel.  No questions asked.