QUESTION: What are some best practices for new business development in today's challenging environment? -Sam
Sam is another great guy that I have met a couple of times. I do not know what you are talking about – a challenging environment? It has never been easier! 2008 was a challenging environment, and it was for a few years after that. The recovery was slow to start.
With all due respect, Sam, and anyone else out there, I could hire my high school baseball team, give them two hours of marketing training, and they could come up with job orders. Would they come up with great ones? No. Would they be sent to HR? Of course, they would. But finding and identifying openings in today's environment is not difficult.
The difficult part – maybe this is what you are addressing – is getting quality openings. I do not even want to say difficult – challenging. That is the art of recruiting.    
Step 1: What we measure increases.
If you are challenged getting quality openings, my question is, are you talking to a minimum of 3, if not 5, hiring managers a day? Or are you talking to that many per week? If so, it will take you about three weeks to get an opening. The metric is about 6:1 conversations to job orders or 12:1 conversations to a search you would work on, depending on the niche. That includes rejecting the low fees, long-term money-back guarantees, and working through HR.
I know you do not want to hear this: activity cures everything. Commit to talking to 5 hiring managers a day. Create a list or hire someone to do the research so you can talk to 5 people a day easily.
I have no cure for getting new business development for aggressive growth when somebody talks to 1 or 2 hiring managers a day. Now, there are a lot of recruiters out there that get a lot of call business. That is fantastic. If you are in a challenging environment in 2022, activity will cure your problem.   
Need help implementing metrics? Determine the exact weekly targets you and your team members need to hit to meet or exceed your revenue goals this year.  Click here to download The Recruiter GPS™ worksheet.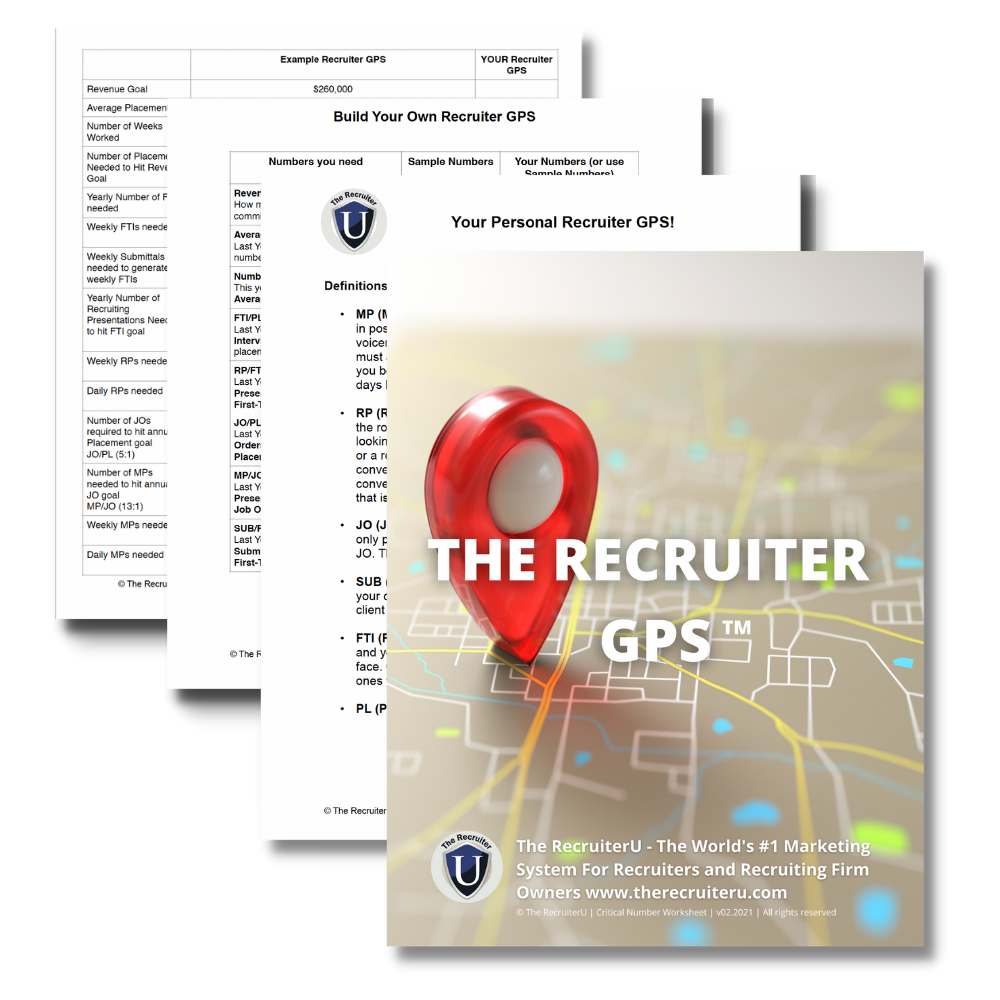 There are all kinds of techniques that you can use to get hiring managers on the phone. You can use emails and texts to intrigue people. You can recruit the hiring manager and flip it into a marketing call. That is a very effective method we teach called flip marketing.    
Step 2: Step up your conversations.  
Once we have the hiring manager on the phone, we need to up our game to get them in a dialogue and discover the opening. There is a book called The Challenger Sale by Brent Adamson and Mathew Dixon. I would highly recommend that book; they studied all kinds of selling metrics. They also said, the buyer will perceive the person who understands their problem the best as probably the best person to provide a solution to their problem.  
I will say that again. A buyer will perceive the person who understands their problem the best as probably the best person to provide a solution to their problem.
How do I go deeper on that? If somebody has an opening, you have got to ask phenomenal questions. You cannot just ask, what are you looking for? What are the duties and responsibilities? What is the salary range? Any bonuses? If I find the right individual and they are making $5,000 more, is that acceptable? Everyone asks these questions! To differentiate yourself, you have got to demonstrate an excellent diagnostic process.
I stole this from somebody who interviewed me 30 years ago. Use this as the opening question when a hiring manager says, I need a controller, I need a salesperson, I need a director of finance:
I want you to imagine that you hired this individual, Mr. or Ms. Hiring Manager. They have had an outstanding first year with you. They have met and exceeded all of your expectations for the year. Tell me what they accomplished.  
They are going to tell you a story, and then you follow with:
"How so?"
"Say more."
"Why is that important to you?
"How so?"
"Go deeper on that for me."
At RecruiterU, we do not call it a job order. We call it a diagnostic. You are doing an in-depth diagnostic on what they are looking for and why somebody would want to work there. You ask really, really good questions.
Diagnose like a doctor. You ask where it hurts, ask questions about symptoms, and based on all of that data combined, based on your patient's specific situation, here is the medical regimen you need to go through for this to be fixed. Do the same thing as an executive recruiter. All this, before you quote a fee, and then you roll out a phenomenal diagnosis, a great prescription.    
Step 3: Follow the great prescription with diagnosis.   
For us to execute on that, Mr. or Ms. Employer, that represents an investment on your part of 28.6% of the individual's first-year base salary with a deposit upfront of $7,500, which is nonrefundable but wholly creditable on the backend when we make a placement. Mr. or Ms. Hiring Manager, are you the one authorized to approve that, or do we need to have another conversation with other people in the organization?
From there, especially with money upfront, it is usually not approved on the first call. It usually is a two or three-call close. I have some inpatient recruiters who go:
But I can get the contingency right there.
Right. What percentage of those do you fill?
One out of five.
Wouldn't it be better to fill four out of five and have two more conversations? And then eliminate the ones that are going to waste your time simultaneously? 
P.S. Whenever you're ready… here are 4 ways I can help you grow your recruitment business:
1. Grab a free copy of my Retainer Blueprint
It's the exact, step-by-step process of getting clients to give you money upfront. https://get.therecruiteru.com/lm​​
2. Join the Recruiter Think Tank and connect with firm owners who are scaling too It's our Facebook community where smart recruiters learn to make more money and get more freedom. https://www.facebook.com/groups/there​​…
3. Join me at our next event
3x a year, I run a 3-day virtual intensive, sharing the 9 key areas that drive a 7-figure search firm. Click here to check out the dates of our upcoming event: https://get.therecruiteru.com/emerge
4. Work with me and my team privately
And if you ever want to get some 1:1 help, we can jump on the phone for a quick call, and brainstorm how to get you more leads, more placements, and more time. https://get.therecruiteru.com/scale-now​
The Latest from TRU